Welcome friends of the Água Boa
The week was hot, the sun was present all the time.
The breeze that blew for a few hours made conditions more pleasant during the fishing days.
Another week in which old friends visited us, the same ones who have supported our work along the way.
But if our fishing friends are our regular acquaintances, the fishing at Água Boa is recognized for being extraordinary, and anything but regular… and once again it did not disappoint!!
The number of fish caught and released exceeded expectations.
At the end of each day we see our fishermen friends disembarking at our newly re-built  dock with a satisfied smile on their faces and a body expression that demonstrates their tiredness from their daily activity.
And it's a delight for the eyes to see them relaxing in our completely new pool area every evening, and music for the ears, when the stories of the day are told and shared by the group members.
Many of those who read the blog wonder "why don't they say the number of fish caught during the week, or their size?".
Because those who visit us know the reality and we don't want to come across as liars or pretentious, as the numbers are well above what people might imagine.
An average of 10 fish over ten pounds are caught by each boat throughout the day…
Satisfaction is a hallmark of Rio Água Boa.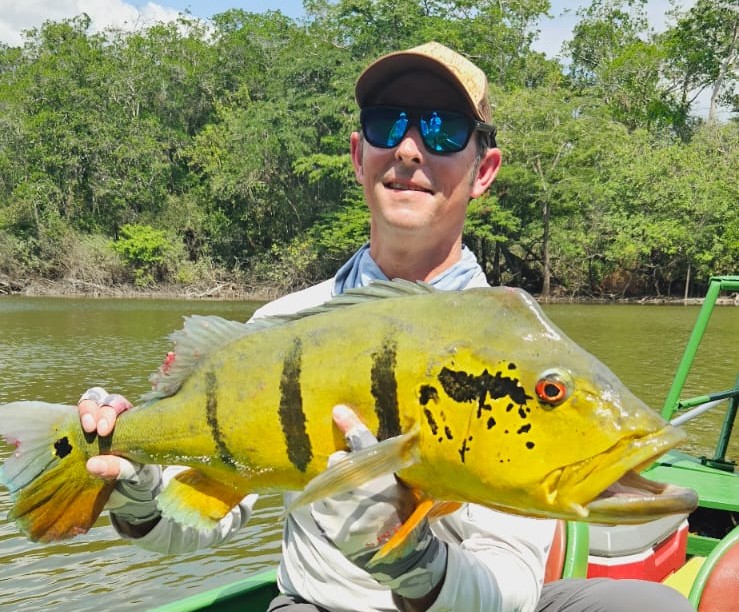 If 14lb fish posed for photos…yes.
If 16lb fish posed for photos….yes.
If 18lb fish posed for photos…yes.
19 was the biggest of the week, congratulations Mike.
We can say that a large portion of the memory on our customer friends' phones has been taken used up.
Al Larson once again brought a consistent group of anglers.
And in a group of 12 people, only 4 fishermen are at Água Boa for the first time.
The number of customers who return over the years to fish with us speaks for itself.
On a very special note:
It is extraordinary to see Don Clark, this almost 91-year-old Australian, every morning with enormous energy and prepared for a long day on the river.
Congratulations Don.
It's admirable…
Your Água Boa Team