It's friday, the sun goes down and disappears behind the green trees, and with it another epic week of fishing ends.
The routine and the good times are repeated every week. The immense satisfaction of capturing the elusive fish that just crossed right in front of the avid eyes of our guests… exciting moments played out ever since our species first roamed and hunted upon this beautiful planet… each moment in time, so new as it is replayed again and yet again.


It seems to us here at the Agua Boa, that these happy events are repeated every week. However, for our guests each moment is new and unique, and so for us they are new too.
Again it was a very productive week, both in numbers and in size. No one leaves here disappointed.
One of the most rewarding moments for us each day is being able to enjoy our time with our friends old and new. We sit together at the dinner table, and listen to the fishing stories that happened during the day, and the same time as we hear, we can witness the expression on each person's face… Simply indescribable …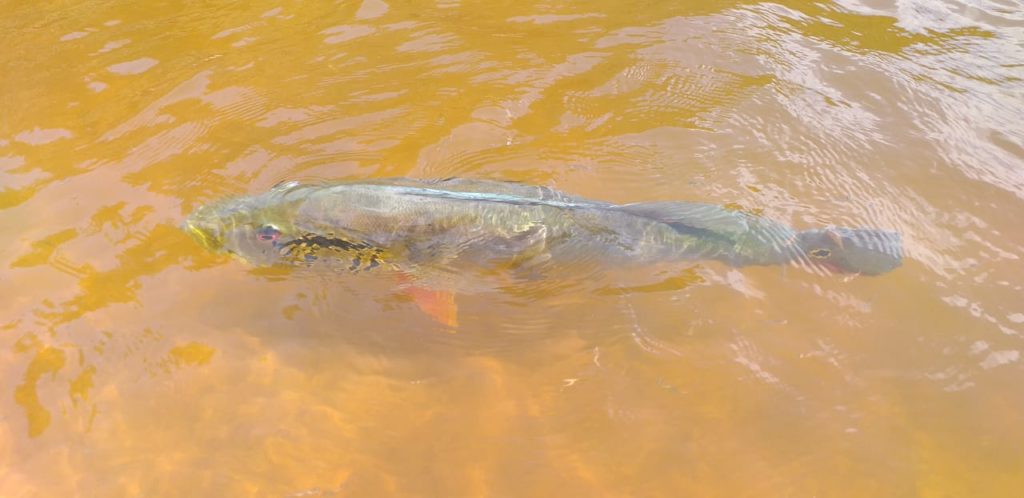 The water conditions are extraordinary at this time for those who like sight fishing, and there is simply nothing more exciting than watching the fish cross right in front of our eyes, making the right cast and hooking the fish.
What a magnificent sensation to perform an action that previously only unfolded in our imagination as if in a movie.
"Everything changes and nothing changes"… that would be a fair description of what has been going on in the last few weeks here in the Água Boa.
Epic battles and magical moments on the river.


Intermediate and floating lines are still the recommendation, also 40lb and 50lb tipet, as well as strip fingers or gloves, and don't forget the sunscreen and rehydration salts. The sun is shining from up on high everyday here at the equator.
Good polarized sunglasses will also make a huge difference now, so make sure you have them.


The sun rises, and our team is ready for another week …