Another week draws to a close and the river conditions continue to improve every day.


The fishing remains consistent and our guests are finding that their expectations are more than fulfilled.
Numbers and size of fish landed were very good again this week, to the satisfaction and delight of the fly-fishers who visited us, several for the first time.
Something that really pleases our guests is the sight fishing, and with the low, crystal clear water levels that we are now experiencing, this has become a constant… increasing the adrenaline level and excitement of our friends who come to share our beautiful water with us.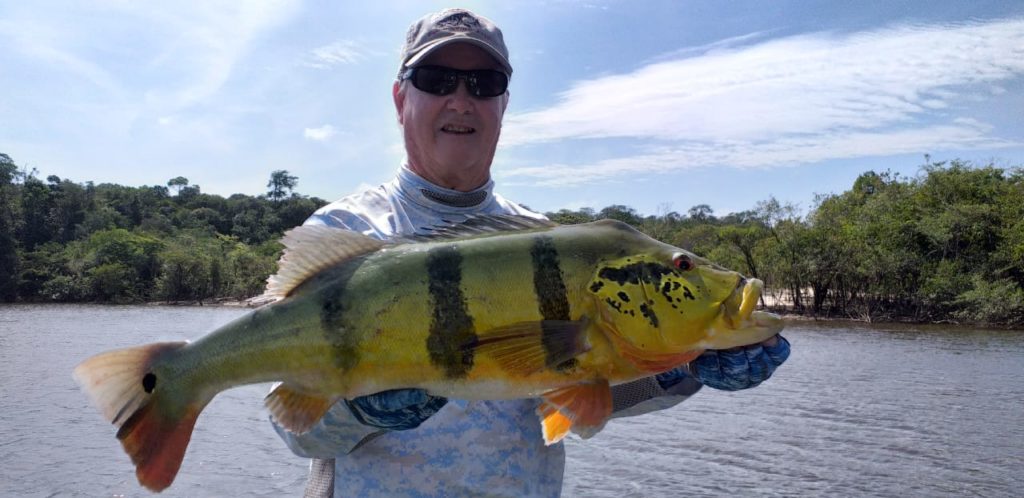 Whilst this week we were unfortunately not graced with sightings of our resident Jaguar population, the giant Arapaima … locally known as the 'red fish' or 'pirarucu' showed their strength and exuberance. But they too did not allow themselves to be photographed, merely giving several of our guests an idea of their immense power in the water and an idea of their potential when hooked.


Four giant Pirarucu were attracted to the fly, but escaped before the fishermen could finally hold them close.
As we well know.. the fish, sometimes win…..
The experience of a fight with a double digit fish, leaves us with extraordinary moments to remember, whether or not we land the beast… and these moments were countless this week.
We hope that the water conditions will remain excellent in the coming weeks, and our guests can continue to enjoy all the nuances of water and nature that the Água Boa can offer.


More than ever, suncream, electrolytes, and hats, as well as gloves and protective 'stripping finger' guards for the fingers are really advisable/needed, as well 40 or 50 lbs tippet.
25-30lb leaders are simply not sufficient for our fishy friends!
We continue to recommend intermediate and floating lines. These types of lines will cover all the fishing and water conditions that we are experiencing at the moment.
It is comforting to see the smiling faces of our dear guests when at the close of the day we hear their exciting fishing stories, recounted as they relax their weary bodies in the warm waters of our lodge pool… a refreshing drink enjoyed as we watch the sun slide, seamlessly, below the horizon .
until next week …