Peacock Fans
It is with indescribable pleasure, that we can now again announce:
"The fly-fishing season is open at the Água Boa"!
It has been a very very long time!
For far too long we were forced to close our doors and suspend our dreams due to the world-wide pandemic
Now we are back, and in full force!
It was not easy to bring everything together for the start of this new chapter of our lives, but the desire and the tenaciousness of our team overcame all obstacles and we are again here to guide you to the fish of your dreams!!
Our desire now is simply to return to work and to provide incredible and unforgettable memories to all our guests, old friends and new, as they visit us at the Agua Boa Amazon Lodge.
How good it is to look at the faces of our guests, and to see the smiles and expressions of happiness when the boats arrive back at the dock at the end of every day.
But let's get to the most important thing, the fishing …
It was an incredible week.
The Água Boa, once again did not disappoint our visitors. The amazing number and size of fish caught on the river and lagoons was what we have become accustomed to expect from this extraordinary water! Each of our guests experienced the power of an Agua Boa Tucunaré of at least 10lbs (up to a massive 19lbs!).
The legendary ferocity and strength of these fish left marks on the hands of our fishermen friends, but also left indelible marks in the memory of each.
What to say about Keith's fight with a 19 lb Tucunaré? … Simply stunning, and more incredible yet, the photo stored for posterity.
Let us also never forget another lifetime experience this week, of seeing a freshwater monster Arapaima (Pirarucu) swallowing the fly … even if the result this time was a victory for this prehistoric fish.
Nothing can compare with the feeling of these fighting moments…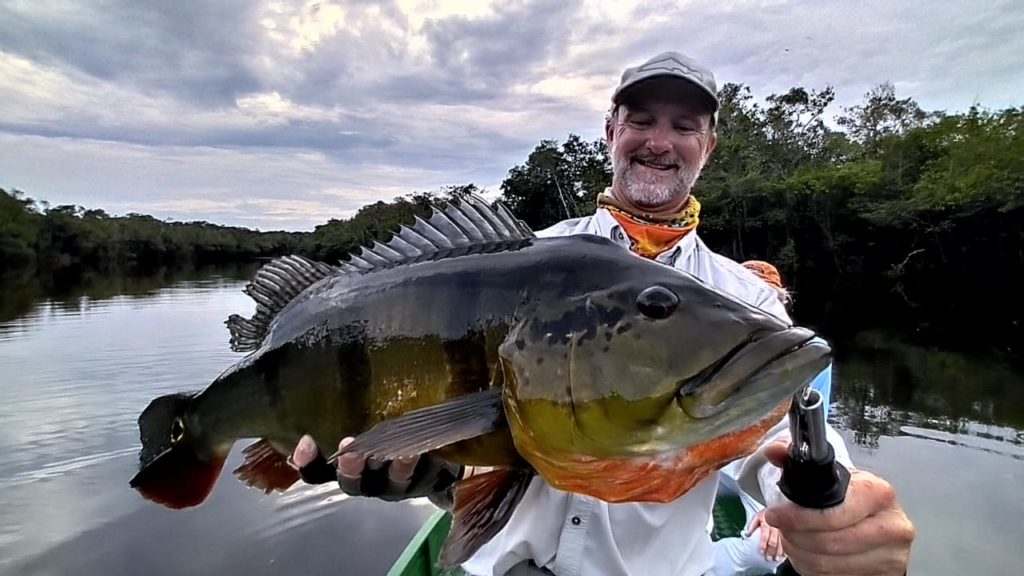 Tucunaré (peacocks) of 19, 17, 15, 14, 12 lbs, etc … were fished and photographed throughout the week of fishing, and gave good stories when all our guests met at the dining table.
After many years working at Água Boa, and listening to thousands of fishing stories, it still impresses and surprises me to witness the unique way that each guest tells their personal experience and feels the relationship with the magnificent Tucunaré.
We thank Guy Schoenborn of FWL (Fishing with Larry) for this first group of the 2021/22 Season. This is indeed the beginning of an auspicious time, not only for us but for all our partner agents…
It was Guy's father, the late great Larry Schoenborn who said, in his book, Fly fishing for Peacock Bass:
"Peacock bass are the ultimate
fly-rod fish and are known for their unbelievable power and speed."
Guy, you bring honour to your auspicious family name! You are always welcome in our delightful lodge beside the river.
We are delighted that, together, we can finally move on, and bring joy and satisfaction to our valued visitors.
The magic has re-started!
Come and be a part of this wonderful and exotic world. Visit the Água Boa Amazon Lodge,and fish with us….your happy memories will last forever…
Until next week
Água Boa team