This week, rain was our constant companion, providing a clear contrast from our more usual hot and sunny days at the Agua Boa.
The water level rose with the rain, turning the art of fishing into something more akin to hunting. With more surface area to hide under, our wily fish won more coverage along the banks and were often to be found concealed in a wider range of areas that were more difficult to access.
Despite all our local meteorological issues, this week was still remarkably productive, and even with the water level risen, the fish still provided plenty of action on the fly.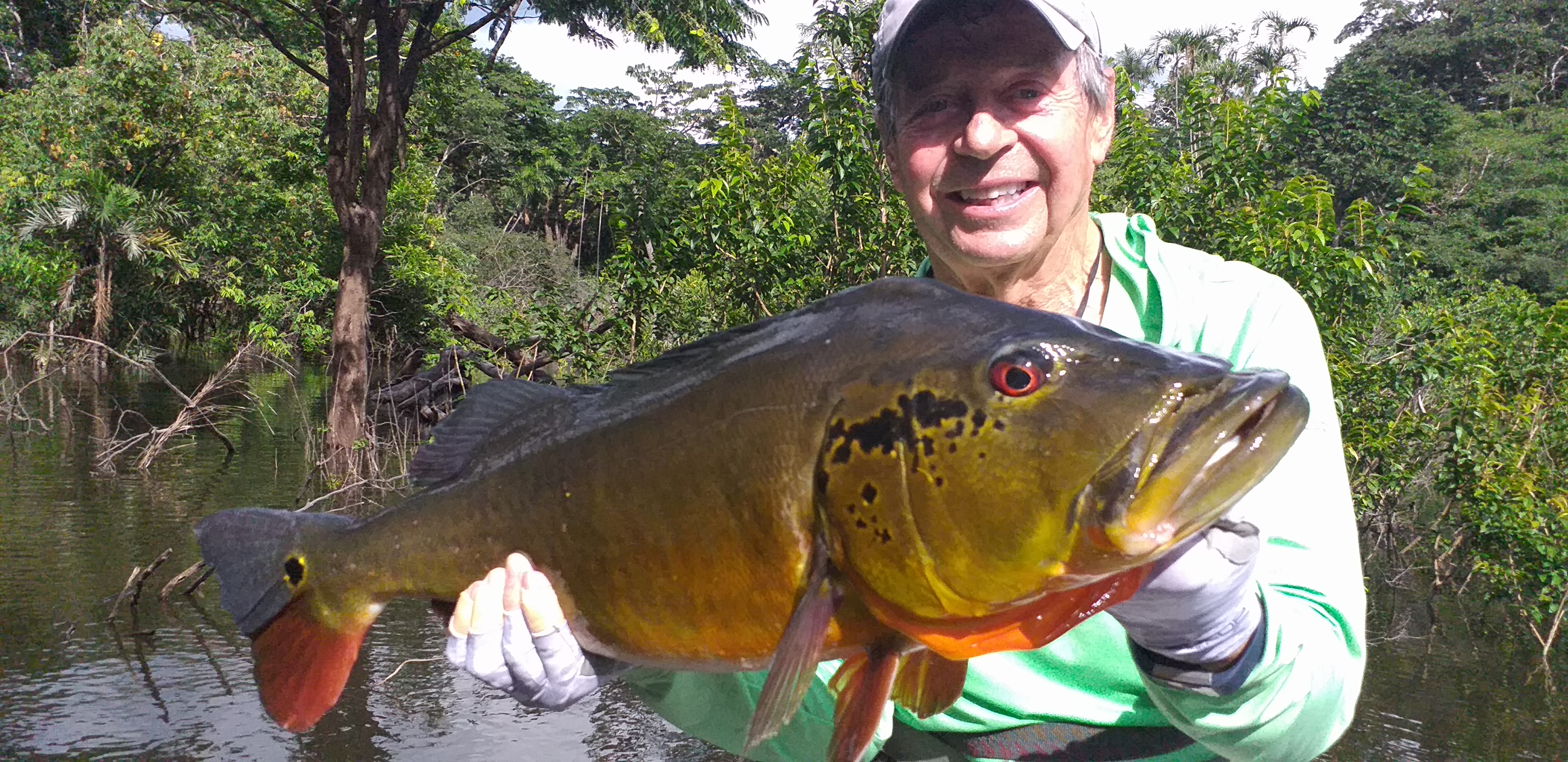 Although we did sometimes need to cover a larger area to find big fish ready for the fight, each of our visitors ended the week with some great photos and happy memories of river battles with our legendary peacock bass of between 10lbs and 16 lbs.
Whenever the river level rises, we recommend that our customers bring sinking lines as well as the more regular floating and intermediate versions. Although conditions may be more difficult, our great fish are still there to be tempted. We firmly believe that the reward is even greater when conditions are not ideal.. and triumph becomes even sweeter at these times…
As always, our experienced guides continue to give their very best every day to exceed the expectations of our guests… making dreams come true, even with the difficulties that nature imposes. They will always go that extra mile to bring you to the very best places and help you achieve the ultimate goal … the Holy Grail of our beautiful water.. the legendary Tucunaré.. the superb Agua Boa Peacock Bass! After the end of an epic battle our guides will gladly take a great photo to bring back the memory of the moment the line tightened and the fight was on…!
Readers of this weekly blog will have noticed that we are now very regularly encountering giant arapaima (pirarucu) in our river…
Previously, in years gone by, we might see three or four arapaima landed per season.
Now, we are seeing three to five arapaima being landed most weeks with double that number being hooked..
The Agua Boa has definitely changed over the last few years… from a world class peacock bass experience … into a world class peacock bass and arapaima fishery.. 
Why has this happened?
Well we have our own ideas about this and will share them with you in the next few weeks!
Until soon!
Your Agua Boa team